Grab Gatlinburg's
BIGGEST SLICE
By the Giant Slice
Cheese

$6.99

Pepperoni

$7.49
On Tap
Blackhorse Vanilla Cream Ale

$9.00

Blackhorse Barnstormer Red Ale

$9.00

Blackhorse Blonde Ale

$9.00

Blackhorse Blackcurrant Sour

$9.00
Bottles & Cans
Bud Light

$5.97

Michelob Ultra

$5.97

Miller Light

$5.97

Coors Light

$5.97

Not Your Father's Root Beer

$7.49

Corona

$7.49

Twisted Tea

$5.97

Angry Orchard

$7.49

Heineken

$7.49

Smirnoff

$6.99

Cayman Jack's Margarita

$6.99

Jack Daniel's Country Cocktails

$7.49

Blackhorse IPA

$7.99

Blackhorse Stargazer

$7.99
Free Refills on all Fountain Drinks
One
slice

will leave you full AND wanting more.

A slice above the rest — that's what we're known for around here. Our giant, made from scratch slices of New York-style pizza are hand crafted and served fresh every time. If you're looking for the perfect pizza to complete your Gatlinburg vacation, look no further.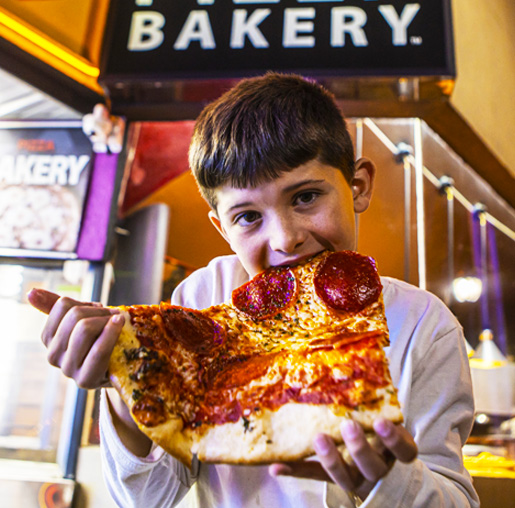 "The portion for the price was great and the pizza was delicious!"
– Christina P.
"The pizza here is insanely good, plus the slices are
huge."
– Mark E.
"This is the most and best pizza for the money in Gatlinburg."
– Steve O.
Try all of our attractions!
Win BIG at Arcadia while you're here.
No trip to Slice is complete without playing to win at Arcadia. This 30,000 square-foot Family Entertainment Center is the largest of its kind in the region and home to our infamous slices! Located just below the Gatlinburg Space Needle, Arcadia offers over 200 of today's most popular arcade and video games, as well as high-end items like game consoles and designer bags from one of the LARGEST selections of prizes in the area.
Enjoy iconic views from the Space Needle.
The historic Gatlinburg Space Needle is a 407-foot observation tower overlooking downtown. Ride our glass elevators all the way up to the observation deck where you'll enjoy free viewfinders and a complimentary Higher Learning experience about the area.
Offering a stunning 360-degree view of the Great Smoky Mountains, this affordable attraction will have you coming back to visit every season!
Make it a memorable evening at the Iris Theater.
Enjoy an evening of world-class family entertainment at the Iris Theater, conveniently located in the lobby of the historic Gatlinburg Space Needle. The Iris Theater brings a different brand of show to the Smokies: one that doesn't involve bluegrass or black bears. Magic, wonder, amazement — the shows you'll find here are one of a kind and are sure to complete your Gatlinburg experience!